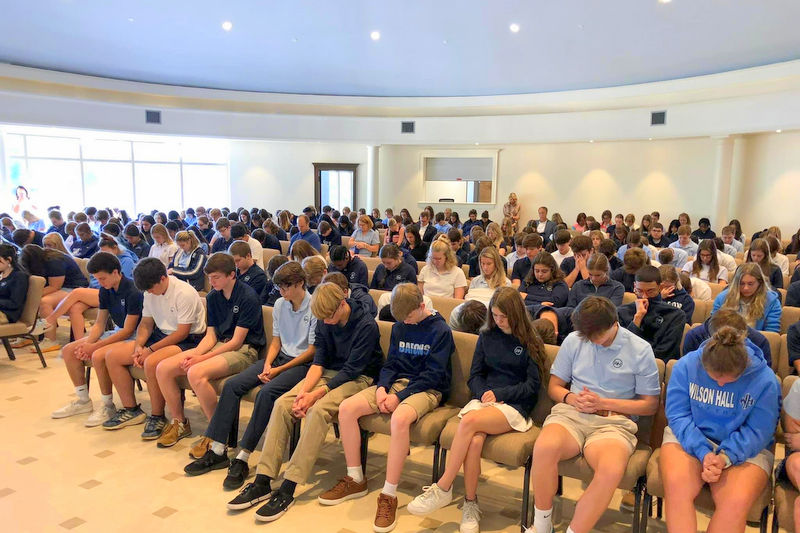 Through our new Keystone program, the school is offering two intentional character development programs for students this year, Chapel and Connect. Students in 1st-12th will regularly attend chapel services in our newly constructed Founders Chapel, focusing on developing positive character traits with a faith-based perspective. Qualities such as gratitude, integrity, kindness, love, perseverance, bravery, and humility will be explored.

Middle and high school will alternate weeks in Chapel. On weeks that one set of students is not in Chapel, that group will engage in Connect, which is small group programming that reinforces the above mentioned traits and equips students to navigate their world in positive, high-character ways. Through peer-to-peer discussions moderated by a dedicated faculty mentor, students will explore ways to play to their core values and strengths, balance their time and attention, support their friends, and handle the pressures of the world around them.

As part of Connect, the school has partnered with The Social Institute (TSI), a provider of curriculum and resources that supports students, faculty, and parents. TSI provides a gamified, online learning platform that empowers students to navigate their social world — social media and technology — to fuel their health, happiness, and future success. By reinforcing character strengths like empathy, integrity, and teamwork and by showcasing their role models (from student leaders to U.S. Olympians), TSI uses a relevant, positive approach to inspire students to make positive, high-character choices.

At a time when students spend many hours a day on digital devices and cyberbullying and reputation-damaging posts run rampant, this partnership will offer our community a comprehensive program of turnkey, best-in-class resources that support our students, educators, and families.

Col. Gordon Speaks at Chapel Program
Col. Thomas Gordon, USMC (Ret.), The Citadel Commandant of Cadets, spoke to high school students during their bi-weekly chapel program. Following his presentation, he presented seniors with a copy of his book, Marine Maxims: Turning Leadership Principles into Practice.
Maj. Brennan Speaks at Chapel Program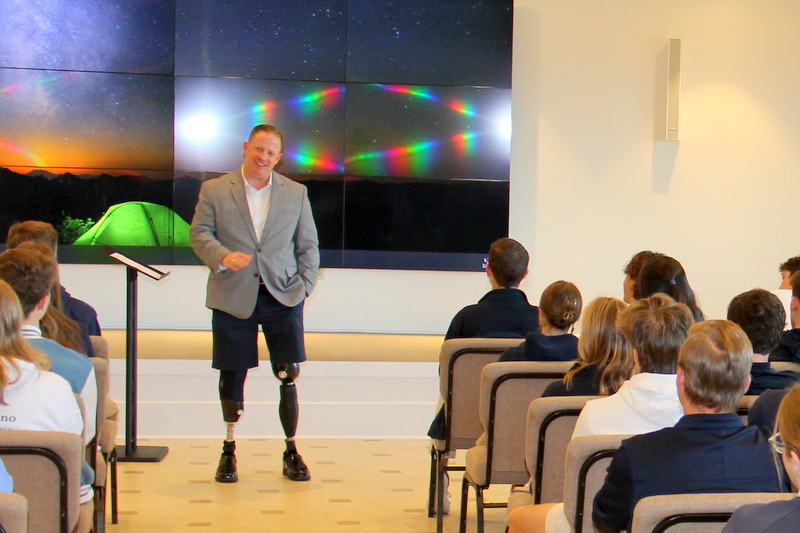 U.S. Army Major Brian Brennan was the guest speaker for the high school chapel program on March 8. An Operation Enduring Freedom combat veteran who suffered life-threatening injuries in Afghanistan, Maj. Brennan delivered an inspiring presentation about perseverance and overcoming seemingly insurmountable obstacles. He also shared how his faith helped him during recovery and how it continues to be a very important part of his life, and he graciously answered a variety of questions from the students and faculty. Maj. Brennan created the Brennan Stands Alone Foundation to assist current and former members of the U.S. armed forces injured in the line of duty and their families.