Keystone Program: Chapel & Connect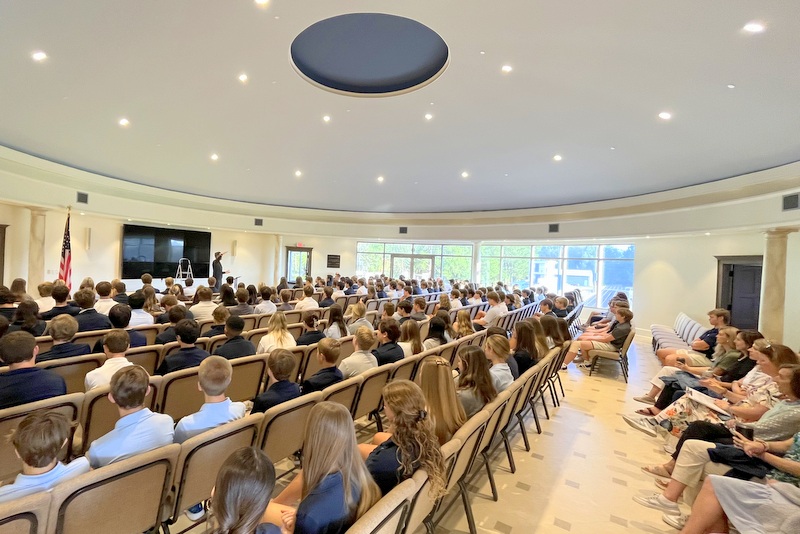 Through the Keystone program, the school offers two programs for students, Chapel and Connect. Students in 1st-12th regularly attend chapel services in the Founders Chapel, focusing on developing positive character traits with a faith-based perspective. Qualities such as gratitude, integrity, kindness, love, perseverance, bravery, and humility are explored. For Chapel the school often welcomes guest speakers such as published authors, local youth ministers, and veterans.

Middle and high school alternate weeks in Chapel. On weeks that one set of students is not in Chapel, that group engages in Connect, which is small group programming. Led by faculty members in homerooms, Connect is tailored to each grade level.

The Connect program for the middle school features an extension of the tenants of the Chapel program and focuses on developing positive character traits. Middle school students also participate in The Social Institute. The goal of this program is to empower students to navigate social-emotional health, social media, and technology positively through comprehensive, gamified lessons. The program reinforces character strengths like empathy, integrity, and teamwork.

The Connect program for the high school varies by grade level. Seniors participate in a financial literacy program that covers such topics as budgeting, credit issues, home buyer education, insurance, and investing. Juniors have community leaders visit campus to speak about leadership and service for the first semester and spend the second semester on college counseling.

Sophomores discuss current events and have a quarter of the year devoted to college counseling. Freshmen focus on Mind Brain Education (MBE), also known as the science of learning. MBE is the intersection of neuroscience, psychology, and education to identify research-informed practices that can be used to promote student achievement. Freshmen also have a quarter of the year devoted to college counseling.

Mr. Lee Gandy, Head of Middle School, coordinates the Chapel program. Mrs. Day Caughman, School Counselor, and Mrs. Sarah Smith, College Counselor, coordinate the Connect program.
Diver Speaks of Faith in God after Ocean Rescue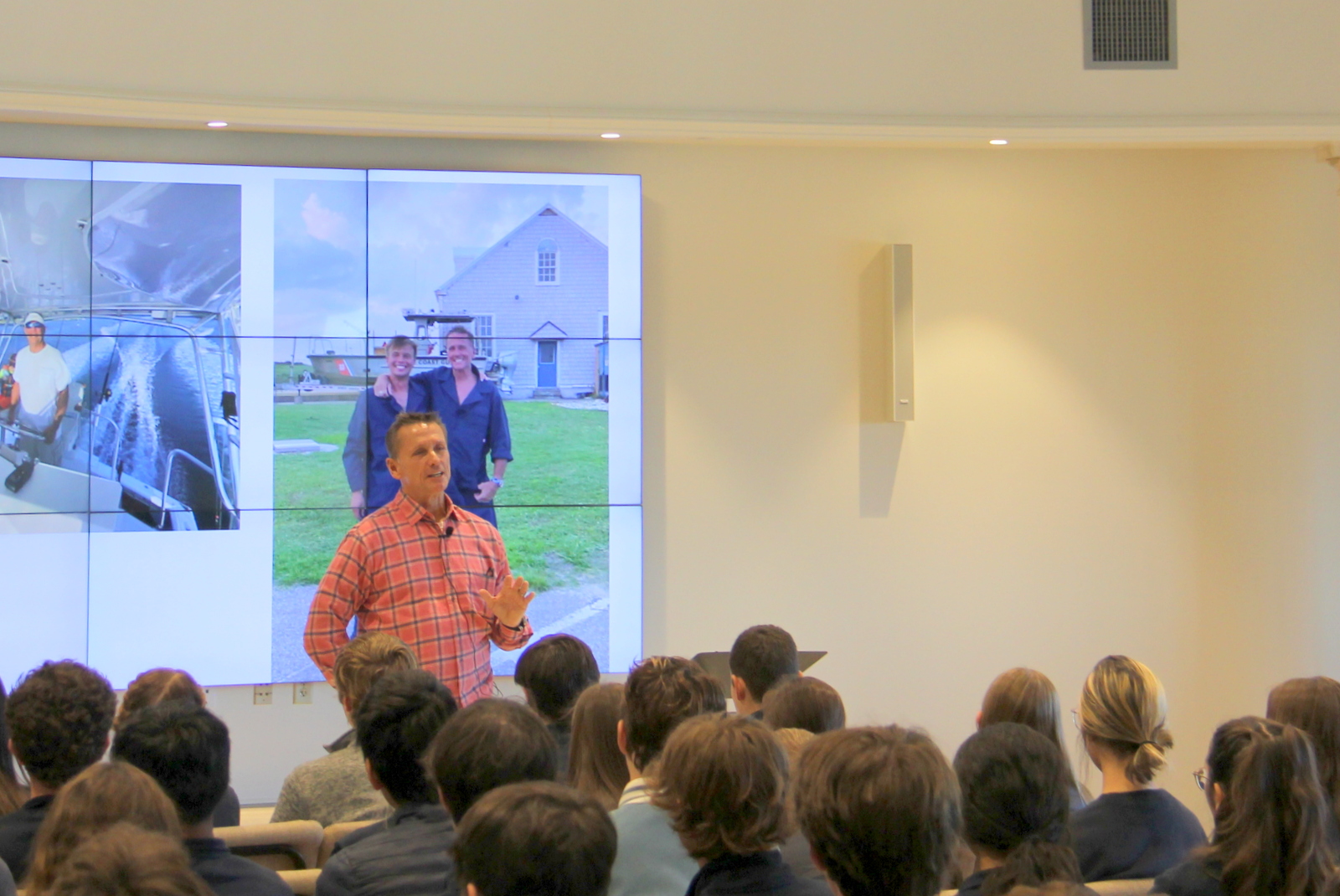 Ben Wiggins was the guest speaker at both the high school and middle school chapel programs, speaking to students about the importance of his faith in God as illustrated by his harrowing recount of being stranded at sea. He and three others, who were on a dive trip 60 miles off the coast of South Carolina, were afloat in the Atlantic Ocean for over 12 hours. The men had been spearfishing and, through a series of events, were unable to board their boat when resurfacing. Wiggins, a retired Navy diver, used his training to keep them alive in the darkness of the ocean. His message of encouragement to the students was to pray without ceasing and to have trust in God in even the most dire of circumstances.
Yoder Speaks at Chapel
For the high school's chapel program this morning the guest speaker was Mr. Caleb Yoder, the Teaching & Missions Pastor at Christ Community Church. He used the analogy of climbing the ladder as the pinnacle of success, whereas Jesus began at the top of the ladder and descended in a demonstration of humility and service. Following his presentation in the Founders Chapel, students and faculty joined in prayer or a moment of reflection. High school and middle school students have chapel on alternating Wednesdays, and lower school students attend chapel monthly.
Col. Gordon Speaks at Chapel Program
Col. Thomas Gordon, USMC (Ret.), The Citadel Commandant of Cadets, spoke to high school students during their bi-weekly chapel program. Following his presentation, he presented seniors with a copy of his book, Marine Maxims: Turning Leadership Principles into Practice.
Maj. Brennan Speaks at Chapel Program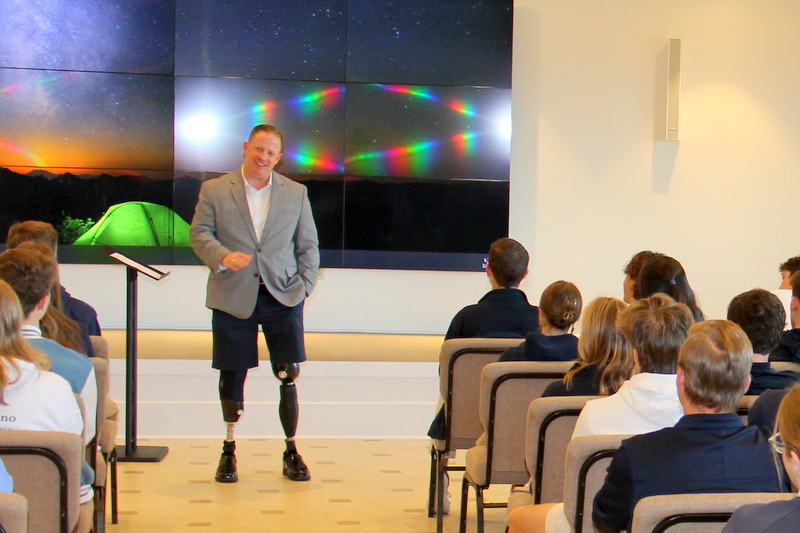 U.S. Army Major Brian Brennan was the guest speaker for the high school chapel program. An Operation Enduring Freedom combat veteran who suffered life-threatening injuries in Afghanistan, Maj. Brennan delivered an inspiring presentation about perseverance and overcoming seemingly insurmountable obstacles. He also shared how his faith helped him during recovery and how it continues to be a very important part of his life, and he graciously answered a variety of questions from the students and faculty. Maj. Brennan created the Brennan Stands Alone Foundation to assist current and former members of the U.S. armed forces injured in the line of duty and their families.